Welcome: Site Update Continuing May 2013
Introduction. I am currently the Runstad Professor of Real Estate and Director of Graduate Real Estate Studies in the Department of Urban Design and Planning in the College of Built Environments at the University of Washington. I am also the former Director of the Runstad Center for Real Estate Studies which is the spearhead for our new Master of Science in Real Estate degree.
Nature of Site. This is a non-commercial website. I established it to disseminate some of my research, teaching and service materials in an effort to help advance the real estate discipline. It also serves as a link to the real estate industry that helps me stay ahead of market trends and on top of changing market conditions. Finally, it serves as a forum that can help bridge the gap between the academic community in which I currently reside and the professional community in which I have served in the past.
Please Contact Me if you have any suggestions. Two new features are notewothy:
Now on Facebook. For a more personal side and current updates, click on:

Holistic Real Estate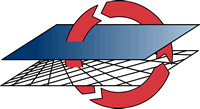 This logo presents a visual representation of the space-time, money-time dimesions of real estate. Click on my logo for discussion of the Spatial Market and Capital Markets.
---
For a walk down memoray lane and a view to the future, track economic conditions, capital markets and real estate fundamentals dating back to 1999, go to my Financial Views Archives.
Updated Materials
Market Data (being updated with current 2013 data).
---
Retail Real Estate
I was the editor of the JSCR between 2003 and 2007 and compiled electronic copies of some 130 articles. Click here to access the entire history of JSCR Archives. To review the first 12 years of the JSCR, read "The Evolution of Shopping Center Research: A 12-year Restrospective."

Click on Logo for JSCR
---
Interested in how the career paths of successful research-oriented retail real estate professionals? Please check out the rest of the Lessons Learned series for insights from a number of successful researchers, both domestic and global.
Q111: Real Estate Outlook 2010. What is your outlook for the economy and the commercial real estate market for 2010?
Q112: Market Timing. When will the economy and real estate markets bottom out? How will we know? What should we look for?
Q113: Cap Rates. What is your outlook for cap rates? How will they play out over the next several years and where will we be when things settle down? More Q&A....
To get a handle on the economy and real estate outlook, we have added a new poll. Click on this link to take the poll and you will be routed to the answers when you finish: JRD Market & Cap Rate Outlook. Make sure you weigh in with your comments!

To scan the results click on the button to the top of the responses:
---
JRD Quick Poll Flash
Here's where we are on current and future Cap Rates this month.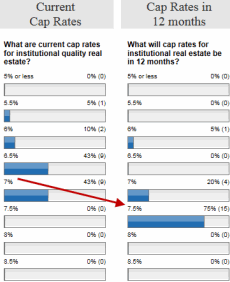 Click to Launch Poll to view responses on other key variables to to check where the market's at:

See my Site Guide to help you navigate my site. I am the web designer and webmaster so bear with me as I make additions and adjustments as the site evolves to serve the market.

Over the years I have compiled a number of "Lessons Learned" interviews with leading research-oriented retail leaders. These interviews contain some timeless insights into what it takes to succeed over the long term in this increasingly complex and interdisciplinary real estate arena. Check them out at my Lessons Learned link in PDF format.

Spotlight on Census 2010

Use the following map to explore 2010 Census Demographic Profile data in terms of population, race, ethnicity, age/sex and households by City. Overlay geographical boundaries to explore. To start over, refresh your browser on my Home Page. Click on tabs to change data and explore interactive features.
Recent Visitor Globe
This site is dedicated to my wife Bennie and to "my three sons" Jad, Jonathan and Robert who each, in their own way, contributed to it. I'd also like to recognize my parents Irene and Larry (going strong at 96) who guided me and always taught me to try to "do the right thing." I'd like to thank the late Dr. James A. Graaskamp who mentored me and Rebecca J. Griego who inspired me and helped us carry on our mission.
Curious about me? Take a look

at the copy "Industry and Academia: The Combination for a Winning Team, A Discussion with James R. DeLisle," Retail Property Insights.
The objective of my Interactive Real Estate Self-Assessment modules are to provide some materials that can help emerging (i.e., students) and industry professionals assess or expand their understanding of some of the key concepts that comprise the body of knowledge for the real estate discipline. I will be classifying and adding more terms over time so check back.
Interested in affordable housing costs? See the results of an empirical study I co-authored that provides detailed cost breakdowns among various types of projects. Get the full report from the Affordable Housing link in PDF format.